| Item ID | Starting Bid | Bids | Current Bid |
| --- | --- | --- | --- |
| 103111 | $125.00 | 5 | $157.50 |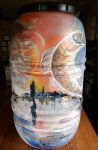 This rain barrel was transformed into a work of art by Carolyn Dawn-Good
Free rain barrel installation for any winning bids over $500!
This painting is expanded from a digital edit that I worked on after seeing the mural "Enlightenment" by Jack Bechtel at the Kitchener Public Library. It is called "Rain on Me/ Like a Fish Out of Water" There is metallic acrylic paint used in it. I was expressing the feelings of hope and despair co-existing in these times of transition. I love the idea of rain filling up a painting of mine. It was difficult to paint on a cylinder but I am pleased with the results. I had the help of spectators and even a math student joined in. The storm was brewing but we didn't get rained on much. I wanted the piece to express the feeling of an old rusty barrel, and rain at the same time as light. - Carolyn Dawn Good
Reep Green Solutions is a registered environmental charity.
But sorry, no tax receipts for purchasing a rain barrel.
Item Added: Sat Jun 17, 2017 04:12 PM